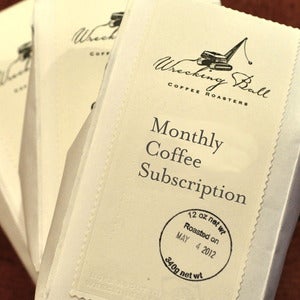 $

109.00
At the interval you choose (monthly, twice a month, or weekly), we will roast and ship you a bag of coffee automatically that we're especially loving at that moment.
Coffees will be whole-bean, roasted and shipped within hours, and will be designed for filter brewing (drip, press, etc.) or espresso (extra charge). Filter roasts are 12 ounces (net weight) of coffee, while espresso roasts are 16 ounces.
Sorry, US addresses only!
Please use the SUBSCRIBE button below (not the "Add to cart" button). Paypal will charge you once at the indicated interval (monthly or weekly), and you can cancel at any time: $19 per filter coffee ($4 extra for espresso), includes USPS Priority shipping & handling. Deliveries will usually arrive within 2-3 days from roast.
Thanks, and we'll get some delicious coffees ready for you!
Love,
Trish & Nick




All amounts in US dollars.
Subscriptions automatically end after the term indicated. To resume an expired subscription, simply buy a new one on this page.
Email us for additional handling, such as gift packaging or an included card.